GSH WORLD will participate in in-cosmetics Asia 2016
Author: China Glutathione suppliers & manufacturers
Release time: 2015-12-25
Column: Company News
in-cosmetics Asia underlined its position as the leading Asia Pacific event for personal care professionals including Marketing Trends, Regulatory Presentations, Innovation Seminars and the opportunity for Formulators and R&D specialists to attend practical training sessions at the Formulation Lab.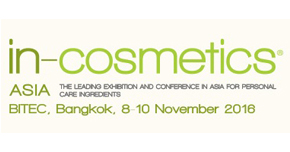 Being as professional manufacturer of glutathione, GSH BIO-TECH will participate in in-cosmetics Asia 2016and introduce our products to the worldwide.
The products cover L-glutathione reduced (GSH), oxidized glutathione (GSSG), ATP, ADP and EGF etc.
Venue: BITEC Bangkok
Date: 8th - 10th November 2016
in-cosmetics Asia Official Site URL
http://www.in-cosmeticsasia.com