NMN alleviates chemically induced memory loss
Author: China Glutathione suppliers & manufacturers
Release time: 2023-09-18
Column: Product News
Recently, researchers from the Mayo Clinic published a paper in the journal Brain Plasticity, showing that NMN can prevent "chemical brain" by restoring mitochondrial function: The researchers found in human neurons that NMN alleviated cisplatin-induced Cell defects, such as DNA damage. Furthermore, NMN also prevents cisplatin-induced disruption of mitochondrial function and structure. These findings illustrate that NMN can alleviate chemically induced memory loss.
Scientific research shows that the DNA in mitochondria is not only important for mitochondrial function, but also for cell function. However, cisplatin, which is used to treat cancer, binds to mitochondrial DNA, causing DNA damage and increasing the production of mitochondrial reactive oxygen species (mROS).
Note: Reactive oxygen species (mROS) are highly reactive molecules. When the concentration is too high, it can cause damage to cells - oxidative stress.
To study the effects of NMN on human neurons exposed to cisplatin, the researchers extracted stem cells from a 16-year-old male volunteer and chemically converted them into cortical neurons.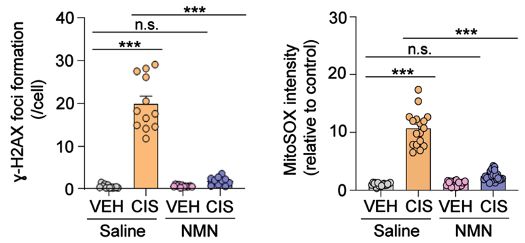 ▲NMN reduces DNA damage and mitochondrial reactive oxygen species (mROS). DNA damage (